From Martha Stewart.....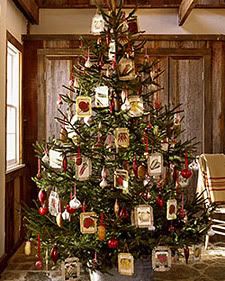 White card stockScissorsSmall paintbrushCraft gluePlastic spoonClear glass glitterGlitter powder in various colorsRaffia fringeTwine
Brush template borders with glue, spoon on glass glitter, and pour off excess; accent vegetables with glitter powder the same way. Let dry.
Glue fringe to back; glue ends of a length of twine to back edges. Glue the other template back-to-back with first; let dry. Flatten inside a heavy book overnight.