Martha Stewart does it again.....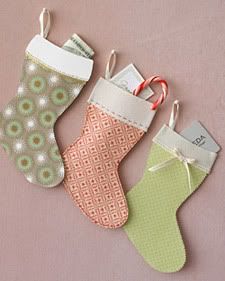 Handmade paper stockings are are great for money and gift cards. Just draw a pattern (
you can find one here
) and cut out. Trace it onto some pretty scrapbook paper. Place a second sheet under the first, wrong sides facing. Sew together, just inside the lines. Cut it out using pinking shears, leaving a small border. Decorate the tops with some more paper or ribbons, using either glue or double sided tape. Glue a ribbon loop inside.