Ok, here it is. Installment two of my vacation dollhouse saga. Today I worked on the bathroom. This room took longer than the bedroom did. I don't know if it was due to multiple interruptions, two teenage boys being home today, or if it was just because I had to dig, hunt, and make more stuff from my stash. Anyway, first is the obligatory before picture...
Here is the full view...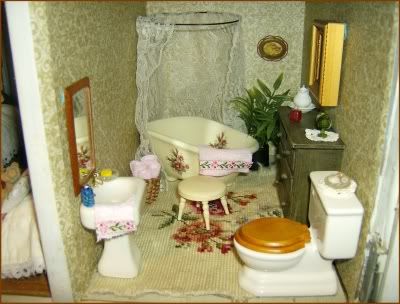 If you look closely, you can see all the bits and baubles I used to make the bathroom look lived in. I cut a chunk of soap off of our real soap, put it on a glass button and used it for soap on the sink. Another glass button sits on the back of the toilet filled with tiny seashells. A baby washcloth made real nice towels to roll up and display in a basket. Two of them I glued trim on and put at the sink and the tub. Beads make the decorative bottles. The rug is an antique piece of needlepoint I have had stashed for years. The tub itself is actually supposed to be a soap dish for a real home. I think it looks better here in the mini home.
Ok, now for more pics....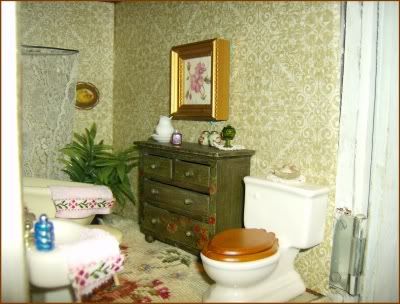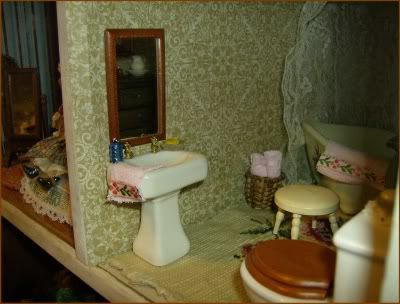 Here are the bathroom and bedroom together. Notice one of the girls has already moved in. She also decided against the blue chair I had placed there, and went for the mirror instead. Fine by me.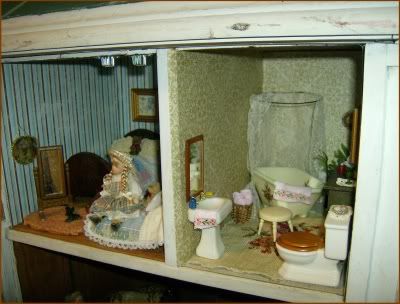 Tomorrow I tackle the second floor. I will call it the great room. It is a combination dining area and livingroom. Oh boy. I hate to see how long that is gonna take me, but I am determined to finish it.

Stay tuned.....