Somebody please tell me why Monday comes as fast as a blink? Yet Friday seems to take it's sweet time getting here. Hmm.
Time for another weekly menu plan!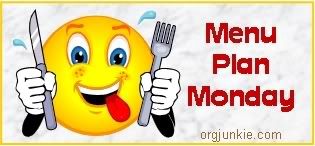 Mondayoven fried chickenmashed potatoesbuttered peasTuesdaybeef and noodlesgreen beansdinner rollsWednesdaychicken salad sandwichestomato soupbaby carrots with ranch dipThursdaymanicottitossed saladgarlic breadFridayhot ham and cheese sandwichspicy potato wedgesfruit saladSaturdaychili dogsnachosleftover fruitSundayClean out the fridge!