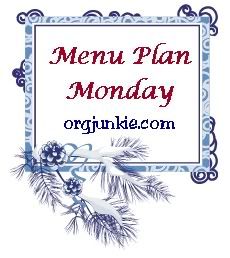 Monday
Turkey Noodle Soup
Cheese, crackers
Pineapple Upside Down Cake

Tuesday
Chicken Fingers
Mac and Cheese
Carrots

Wednesday
Easy Potato Hamburger Bake*
Salad
Rolls

Thursday
Beef and Broccoli Stir Fry*
Rice
Orange cupcakes*

Friday
Spaghetti
Salad
Garlic Bread

Saturday
Scrambled Eggs
Pan fried country ham slices
Biscuits

Sunday
Sloppy Joes
Dill pickle spears
Potato chips



Easy Potato Hamburger Bake
3 potatoes, sliced thin
1 lb. hamburger
1 sm. onion
1/4 tsp. garlic salt
1 (16 oz.) can green beans, drained
1 can cream of celery soup
1/2 can of milk
4 oz. grated Cheddar cheese

Put sliced potatoes in bottom of greased casserole dish. Brown hamburger and onion (drain). Put on top of potatoes. Add garlic salt. Next add green beans. Mix celery soup and 1/2 can of milk and pour over beans. Top with grated cheese. Bake, uncovered, in 350 degree oven for 45 minutes. Put lid on last 10 minutes of baking.

Beef and Broccoli Stir Fry
1/2 lb. boneless beef steak, fat trimmed
2 tbsp. cornstarch
4 tbsp. soy sauce
1 tsp. sugar
2 tsp. minced fresh ginger root
1 clove garlic, minced
1 lb. fresh broccoli
1 1/2 tbsp. oil
1 onion, chunked and separated
1 carrot, cut in 1/8 inch slices

Cut beef across grain into thin slices. Combine 1 tablespoon cornstarch and 1 tablespoon soy sauce with sugar, ginger and garlic. Stir in beef. Let stand 15 minutes. Remove flowerets from broccoli, cut in half if large.
Combine remaining cornstarch and soy sauce with 1 cup water. Heat 1 tablespoon oil in wok or large skillet over high heat. Add meat and stir fry 1 minute, remove. Heat remaining oil in same wok. Add broccoli, onion and carrot. Stir fry 4 minutes, stir in meat and soy sauce mixture; bring to a boil. Cook until sauce thickens. Serve immediately.


Orange Cupcakes
1 c. sugar
1/2 c. butter
3 eggs, separated
2/3 c. orange juice
1 1/2 c. sifted flour
1 tsp. baking powder

Cream butter, add sugar, add beaten egg yolks. Add dry ingredients alternately with orange juice. Fold in stiffly beaten egg whites. Bake in cupcake pan 20 minutes, 375 degrees.