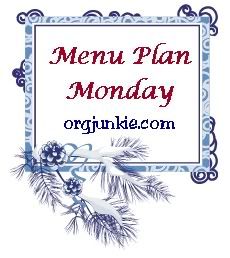 Monday
crock pot fajitas
salsa, refried beans
tortilla chips
Tuesday
beef stew
homemade biscuits
oatmeal apple bars*
Wednesday
fish fillets
hash browns
coleslaw
Thursday
chili
crackers
peanut butter sandwiches

Friday
oven fried drumsticks
scalloped potatoes
peas and carrots
Saturday
ham and cheese omelets
english muffins
fruit
Sunday
pizza casserole
salad
breadsticks
Apple Oatmeal Bars
*********************
Mix 1 cup all purpose flour, 1/2 teaspoon baking soda, 2/3 cup brown sugar and 1 1/4 cups oatmeal. Cut in 1/2 cup butter. Spread half the mixture in a greased 8" square pan. Arrange a layer of 2 cups sliced apples over crumb mixture. Dot with 2 tablespoons butter and sprinkle with 1/4 cup granulated sugar. Cover with remaining crumb mixture. Bake 45 minutes in 350 degree oven. Cut in bars or squares.
Pizza Casserole
****************
1 lb. hamburger
1 med. onion, chopped
1 bell pepper, chopped
1 (16 oz.) jar pizza sauce
1 (7 oz.) pkg. macaroni, cooked
4 oz. pepperoni
1 jar mushrooms
Mozzarella cheese
Brown meat with onion and pepper, add macaroni, mushrooms and sauce. Pour in a casserole dish, layer pepperoni on top, then grated cheese. Bake 30 minutes at 350 degrees.
Click