I found some time to go browse around at a junk shop today. It isn't really full of junk. I just don't know what else to call it. The sign on the outside says antiques, but I would call the things inside more collectable, and just regular thrift store items.
Anyway, I got both these boxes of sewing stuff for 6 dollars! Yep! 6 dollars. Both boxes were wrapped in plastic, so I could not dig thru them before buying. It's ok. They were definitely worth it.
Here are the boxes as they were bought. I did remove the plastic from the bigger one because it kept glinting in the pics.
Here it is all categorized and arranged on the floor.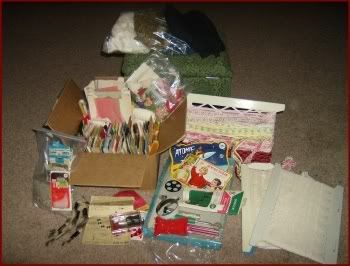 A close up of the trims, etc. There are 75 cards of various ric rac, seam binding, piping, and other trims. Some not open, with a price tag of 10 cents on it from Ben Franklin.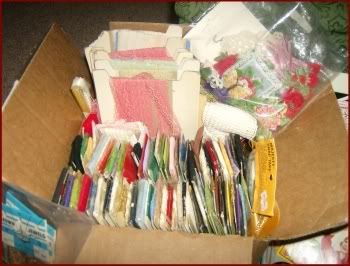 Another close up. Love the needle books. To the bottom left of the needle books is a black disk with holes in it. Does anyone know what this is?