I am the only one amongst my friends and family who likes avocodoes it seems. How could you not like avocadoes? I mean, it's even a fun word to say. Avocado....avocado..... Has sort of a regal tone to it don't ya think?
Avocado Salsa
1 (16 ounce) package frozen corn kernels, thawed
2 (2.25 ounce) cans sliced ripe olives, drained
1 red bell pepper, chopped
1 small onion, chopped
5 cloves garlic, minced
1/3 cup olive oil
1/4 cup lemon juice
3 tablespoons cider vinegar
1 teaspoon dried oregano
1/2 teaspoon salt
1/2 teaspoon ground black pepper
4 avocados - peeled, pitted and diced
In a large bowl, mix corn, olives, red bell pepper and onion.
In a small bowl, mix garlic, olive oil, lemon juice, cider vinegar, oregano, salt and pepper. Pour into the corn mixture and toss to coat. Cover and chill in the refrigerator 8 hours, or overnight.
Stir avocados into the mixture before serving.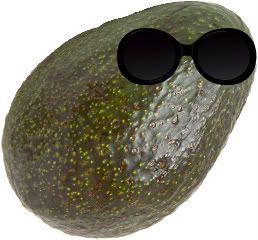 I hope she doesn't recognize me.......