Even the best made plans can go awry. In fact I count on it. In an earlier post, I gave a link to a cute doorstop that I intended to make. Well, one short cut led to another and I ended up making a basic bag shape with a boxed bottom and top. Then I added a handle. I did not piece it. It is a bandana that I bought at hobby lobby for 1.27 on sale. It is actually pieced. Added two perky buttons to the bottoms of the handle and now I have a doorstop all my own. The cat has already checked it out, stalked it for about 15 minutes, and has decided it can stay.
Yes, it is stuffed with dried beans.....
Finished product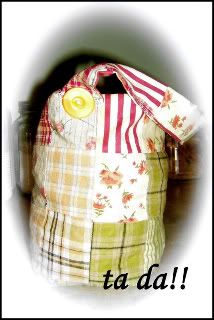 I also made this whimsical looking bag to hold all the mismatched socks in my household. I have my husband and two boys who go thru a lot of socks. All the same size too I might add. We have strays. And when the boys get a wild hair and clean their rooms, especially the younger one, no doubt there will be more socks produced. Now, the misfits can wait patiently in this bag until their partners are found on laundry day. It hangs conveniently beside my washer.